Rosario Islands
Many people visit Cartagena just to go to the Rosario islands in Colombia, but they do not have enough information to make a decision according to their expectations. But today you are reading a post that can save you a bad experience while allowing you to get the most for your money, and when we say get the most for your money, I don't mean cheap, because many cheap things are much more expensive; especially when you travel to a place to which you still do not know if you will have the opportunity to return, so I advise you to continue reading this post not to take the cheapest tour, but rather the one that best suits your expectations.
Many decide to read posts on the internet and watch YouTube videos of "influencers" who are usually biased by a payment in exchange for advertising, or sometimes they are just people who, like you, only came once and made a post about their unique experience. We write this post based on 11 years of experiences, operating tours to the Islands, and visiting the islands one by one, and knowing which ones are yes, which ones are not, and which ones never
Starting with this article, you should know that the Rosario islands are an archipelago that contains at least 23 islands, as shown in the following picture.
And of those 23 islands, only 6 islands have private tours and only 3 can be reached by group tours because they are public beaches. We will dedicate the first part of this article to those 3 public beaches or islands that people can visit without prior reservation or payment.
1. Playa Blanca Baru
The first island that has group tours and a public beach is Barú, which is the most popular island and its best known beach is "Playa Blanca" which is the most visited beach in the archipelago as it is the only island that can be reached by land, or even a private boat or group boat tour.
Another thing you must know is that if you take a boat to go to playa blanca, There is no dock, so you have to jump to get off and to return to the boat; Those boats leave from the bodeguita dock in a rosario islands day trip from Cartagena. Being a public beach and the most visited is also where you will find more vendors, and sadly the vendors in Cartagena are usually persistent, so we recommend you be patient and if you do not know how to speak Spanish, your best word to learn will be: "NO GRACIAS", repeat it as many times as possible (in a polite way) until the seller gives up and leaves.
If for some reason you decide to buy or are interested in something that they offered you, do not even think of taking it, or trying it without first asking about the price, otherwise you are left at the mercy of what the seller wants to charge you.
In Cartagena de Indias we've already had some of bad news with this type of situation, because we know that foreigners trust others and therefore imagine that no matter how expensive a fried fish is (for example), it will not exceed $40,000 COP or $10 USD, but believe me you can be in for a nasty surprise if you don't ask the price first, especially with those who sell oysters who offer them as if they were free, and after you've eaten several they charge you (a lot), likewise the Masseuses.
Please, if you decide to go to Playa Blanca Baru because your budget is low and the beaches are very beautiful, follow our instructions, and you will have a bearable experience.
Now, we must also talk about the good things about Playa Blanca, since it is the largest extension of the beach with white sand, and its water is turquoise and crystal clear, and I will also give you a couple of tips so that you can have a decent experience in this place:
If you arrive by land to playa blanca barú, there are only two access roads to the beach, the first descent is very crowded because it is the closest and the second is a little less but still being busy, so we advise you to take some boats that are on the beach that can take you to the farthest part of Playa Blanca where there will be fewer people and therefore fewer vendors as well. We generally recommend a place where its owner takes care of visitors from ill-intentioned vendors. You ask for Mrs. CELMIRA.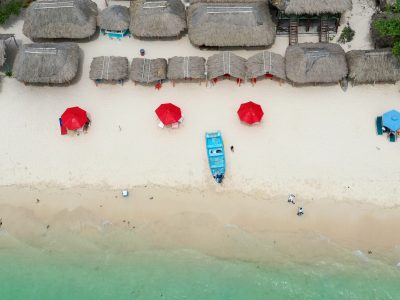 Nothing is Free and Everything has a price
In summary, if you can avoid going to this place, don't go, but if you definitely want to go and meet him because he is one of those people who love to enjoy asking the locals for discounts and knowing the stories behind each person and has an intuitive sense that allows you to discern when something is wrong then go, and follow our recommendations. But remember that NOTHING is free in this place and that EVERYTHING, absolutely EVERYTHING in this place has a price, never assume anything and better make sure that later you are not going to leave with a bill that you did not expect or had in your budget.
2.  Agua Azul Island
The second public island that you can visit without prior reservation is Agua Azul Island; here I must make a parenthesis because this island creates confusion among people who have gone to the private part (which has the must beautiful Rosario islands hotels), yes, as you read it, this island has a private part (which we will talk about later, please click here) and a public part that we will mention now.
Contrary to Playa Blanca Barú, you will not be able to reach the Agua Azul Island by land; the only way to get to this island is by boat, or private or rented yacht or on some rosario islands day tour such as 5 VIP islands, which sell these tours, but can only reach the public islands that are mentioned in this article; You can get more information about this tour by clicking here.
Going back to Agua Azul Island, the public area, the recommendations are the same as in Playa Blanca Barú, do not take anything without first asking the price, saying "NO GRACIAS" until the seller gives up and leaves, and remember that nothing is free and Ask for the price of everything you drink, like or touch.
For obvious reasons, in this place you will find fewer vendors than in Playa Blanca, and I must tell you that the length of the beach is also much smaller, I would say that it may only be about 200mts (70ft) – 300mts (100ft) maximum. Also, if you arrive by boat, remember that there is no dock, so you have to jump off the boat or yacht to get off and on (the same on Playa Blanca), but sometimes they put some chairs to make it a little easier.
3. Cholon Island
The third public island is the CHOLON island or the party island, since this place does not have a beach and only has a few huts that they put some tables inside so that you can settle down and eat your lunch and have a place to take refuge of the sun.
Since these huts are few (At least 13 as the photo shows) and since this place is highly visited due to the parties that are held there, they are highly disputed, so we recommend that you find someone who can make a reservation for one of these places in advance so as not to run any risks (we do it with our clients). Boats, yachts, and catamarans arrive at this place and usually make a U-shaped formation around the island and the huts, then each one turns on their sound and sets up their party on.
If you come as a family with children, I think you should avoid this place, since you may see unpleasant images for them. Continuing with the description of this place; CHOLON Island can only be reached by private boat or in the group tours that I mentioned before (5 VIP islands click here for more information), which are the best option for those who want to visit CHOLON Island but do not have the budget to be able to rent a boat or a yacht.
This place, being public, you must have the same care as before: "NO GRACIAS" until the seller gives up, there is nothing free, even if they tell you it is free, and always, always ask for a discount, because usually the sellers are going to charge you much more than whatever you are buying is worth, for which we send a local bilingual guide on our boat or yacht rental tours, who will look for the best prices for you and help you translate in case you want something special.
On this island you can do jet ski, kayak, vape, and above all enjoy the best music at full volume with your friends or family. Some hope to find women on the island of Cholon, but it is very unlikely that will happen, unless you find a group of girls who go on their boat looking for boys, but that does not happen very often, so We recommend that if you want to have a good time with women in this place, bring them from Cartagena de Indias and avoid spending a party day alone on the island of Cholon watching others have fun.
For the rest, we recommend you bring your best attitude and enjoy the spectacular party atmosphere that can only be found in this place.
With this, we finish a brief explanation of the three islands with public beaches that you can visit without prior reservation and without paying to get to them. Please, I hope you take into account the recommendations we gave you so that you can have the best possible experience in these places. We locals handle them very well, but we still have to apply all the advice we gave you here in order to have a good experience on these islands and avoid being scammed (locals are also scammed if we don't apply these tips)
Our next post is about the private tours to the best Rosario Islands, please click here to know more about and find the best option for you.