Palenqueras at the walled city
It is very common to see beautiful women wearing colorful dresses with the colors of the Cartagena flag (Green, yellow and red) or the Colombian flag (Yellow, blue and red) throughout the walled city, sitting on the corners with full baskets fruit, selling them individually or in the form of salads.
These women have recently become cultural icons of the city of Cartagena, being today one of the most sought after photos among visitors to the walled city, therefore, these beautiful women will charge you a tip of $1 – $2 USD for taking you that photo with them, which has meant that now there are more palenquera women throughout the city waiting for a tourist who wants to take a photo with them. Without knowing the cultural background behind these women and that today we tell you in this post.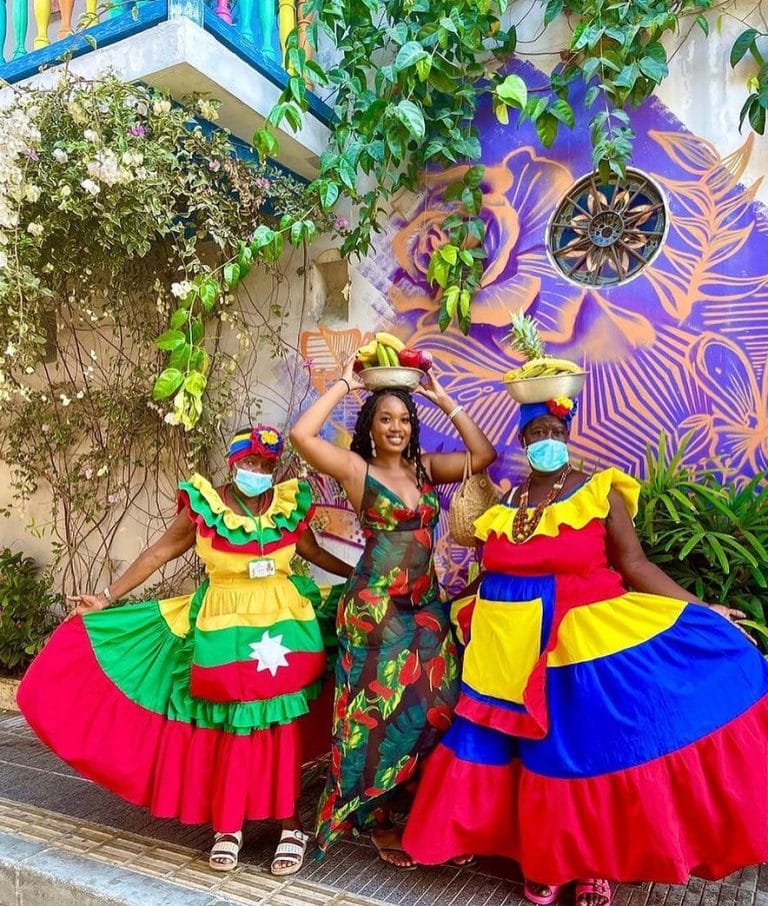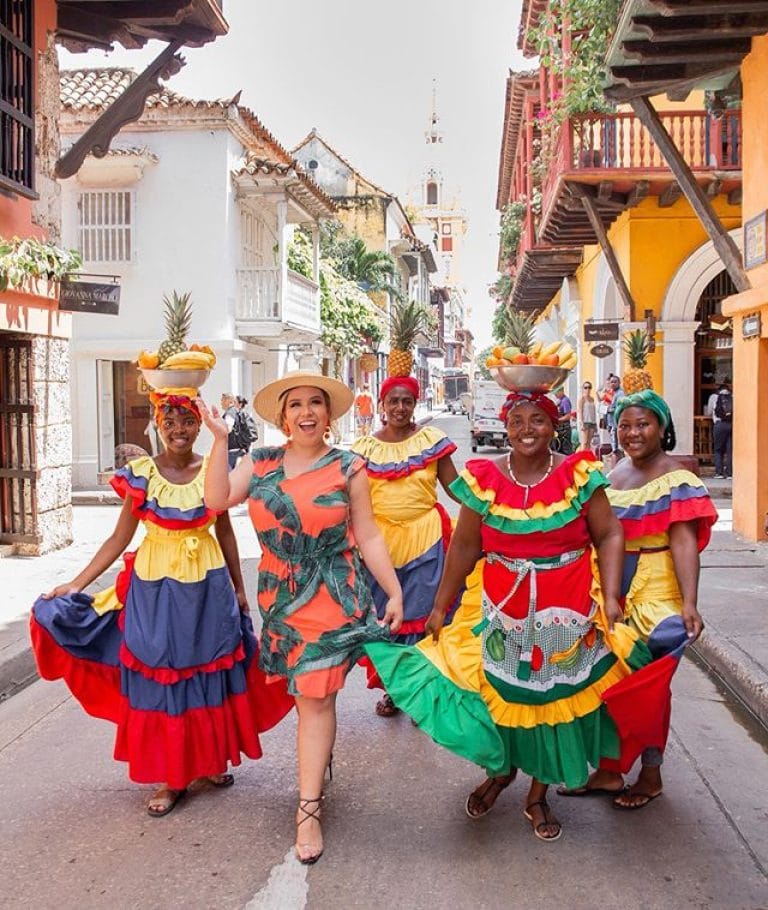 What is the history of Palenqueras?
The name Palenqueras is given to them by the population where these women are from, which is the legendary population of Palenque, which is famous for its African cultural legacy, which is made up of language, gastronomy, music, dance, ritual, religion and sport; being the first free town in the American continent since 1713, which makes this place even more culturally attractive, being also declared cultural and intangible heritage of humanity in 2005.
In palenque, today and always, women have played an important role in their society, being part of the economic and cultural engine of palenque, being participants in the generation of jobs and enterprises that in turn contribute to the cultural and economic sustainability of palenque by selling sweets, desserts, lunches, turbans, necklaces, bracelets, souvenirs, etc.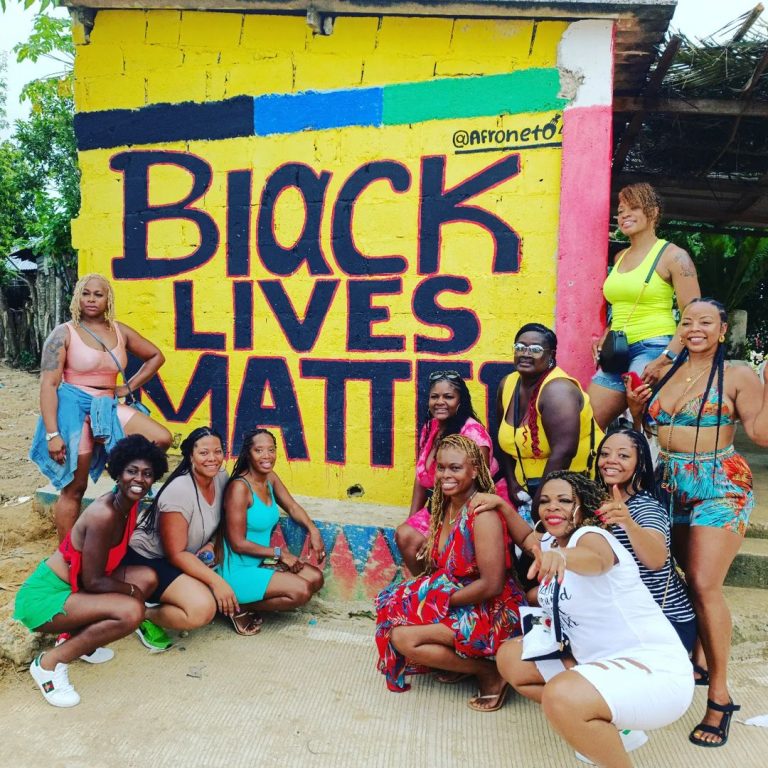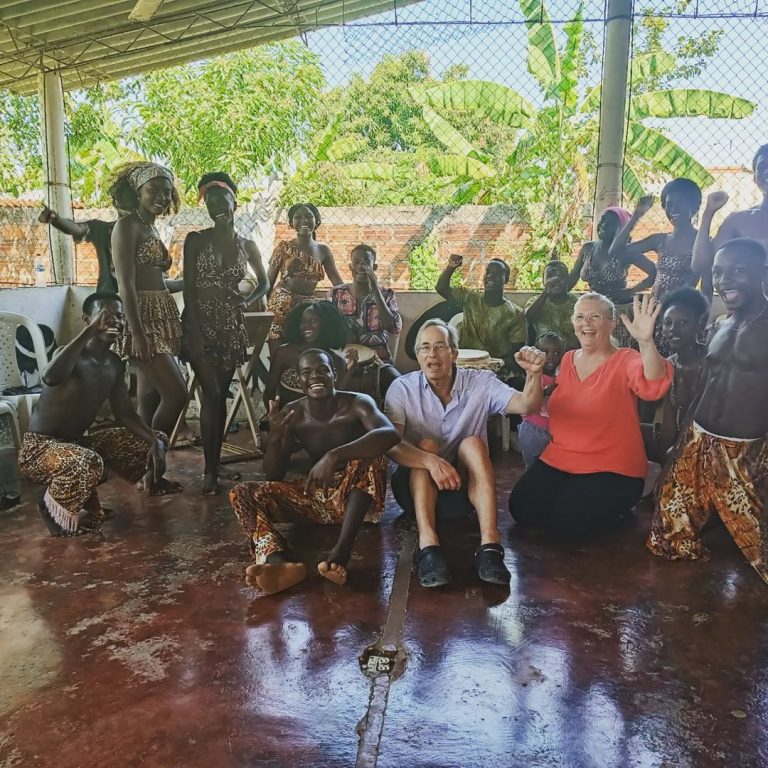 Palenque is also the birthplace of the greatest athletes in the history of Colombia, since on October 28, 1972 Antonio Cervantes "Kid Pambele" was crowned WBC junior welterweight world boxing champion in Panama City, fighting against Alfonso "Pepermint" Frazer. Pambele being the first Colombian to win an international championship or tournament, which he later revalidated for almost 8 years in a row, being listed as one of the best junior welterweight boxers of all time and having a place in the Hall of Fame of New York.
Before Cartagena became the pearl of the Caribbean, and was an attractive destination for locals and strangers, the palenqueras dedicated themselves solely and exclusively to selling typical Palenque fruits and sweets that they prepared at home and then had to take a bus that they brought from Palenque located 40 miles from Cartagena, and 1 hour and 30 minutes, to be able to earn money and support their families.
Today they are found exclusively in the walled city of Cartagena, but previously they were seen walking through all the popular neighborhoods of the city offering their typical palenque fruits, sweets and desserts, which are still part of the local tradition in our homes today. These typical sweets can also be found in the Portal de los Dulces (located in the clock tower), whose sweets today are also a local reference for gastronomic contests at Easter.
Nowdays
In recent years, palenqueras have become a source of inspiration for Colombian artists and designers. Their colorful dresses and baskets have been incorporated into fashion and art, and have become a symbol of Colombia's vibrant and diverse culture.
Therefore, taking a photo with a palenquera not only takes you a beautiful and colorful photo of Cartagena Colombia, but you also take with you part of the cultural, African legacy that involves music, dance, and gastronomy in one. Now that you know, you may be encouraged to tip a little more than $2 USD to these beautiful women who carry the culture and history of our beautiful Cartagena in their veins.